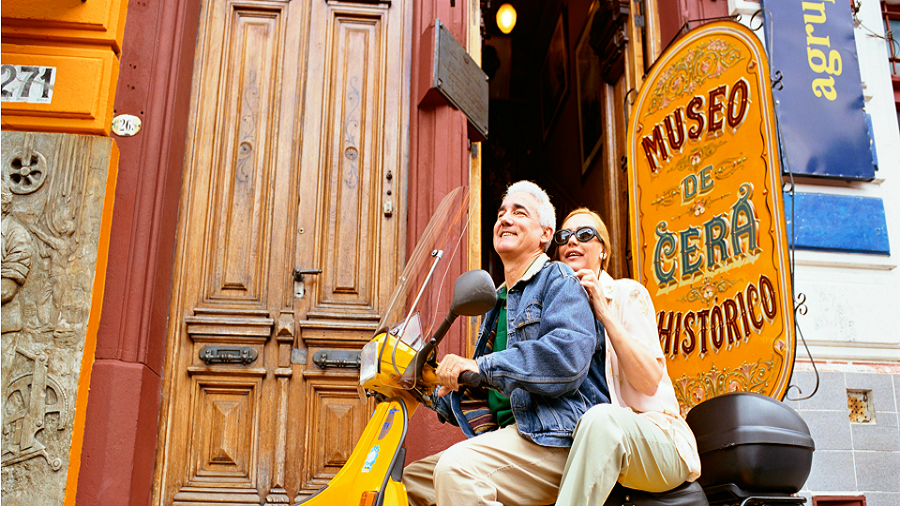 When you're getting ready to take a trip, you always make sure you have your wallet, passport, confirmations and medications with you. Those are the obvious necessities. But what about those items that would really make your life easier? That would make your vacation, well, a vacation?
Quick note, this post was sponsored by Readers.com but the opinions expressed are my own.
Here's a checklist of 10 new necessities to bring on your next trip:
Folding Readers
At home, most of us have readers lying around every room but we often forget to bring them on vacation, remembering them only when we're having trouble reading a map or trying to relax on a train or plane with our Kindle. Pack along a couple of pairs from Readers.com, most of which come with compact hard cases that are easy to stow in your suitcase, backpack or pocket so you can travel light. The Westfield, which even includes a small mirror in its case, comes in a gorgeous green or steel blue and is so easy to carry along, you'll have room to take both colors.
Downy Wrinkle Releaser Plus
I don't iron at home so you can bet I'm not going to start on vacation. I used to hang my clothes on the hotel shower rod as soon as I unpacked so I could try to steam out the inevitable wrinkles but that was always an iffy proposition. This new spray from Downy, in its TSA-approved 3 oz bottle, is ingenious. Just spritz, tug, smooth and dry and, in less than five minutes, you're ready to go without looking like you've been sleeping in your clothes for days. I took this to New Orleans on a press trip and to Boston for my daughter's graduation, and it worked so well, I was tempted to spray it on my face.
Purell Hand Sanitizer
I was never a germaphobe but then I saw Contagion and freaked out a little. Doctors always recommend hand washing as the best way to prevent disease so now I carry Purell wherever I go. Seriously, those scenes where the pandemic is passed along from person to person around the world through simple activities like holding on to bus poles, opening doors, shaking hands? Those are all things you do on vacation. Keep a travel-sized bottle in your purse – and use it regularly.
GoToob Travel Tubes
Now that I've reached a certain age, my hair and skin are much more finicky about what's used on them. There are only so many products that actually keep them looking good, and they're typically not the ones you find in hotel bathrooms. These practical – and adorable – reusable containers let me bring my favorite shampoo, conditioner and lotion along for the weekend even though they don't come in carry-on sizes.
Reading Sunglasses
I find it hard to read outdoors – something I love to do on vacation, especially on a beautiful beach or on the deck of a cruise ship – because I need both readers and sunglasses. When I discovered they were available as one, it was a life-changing moment for me. Readers.com has a fantastic selection of sun readers which I now can't live without. They look just like regular sunglasses and are available in a variety of great colors and styles. You can even get bifocals if you need them. So, that woman you see lying by the pool, happily reading The Goldfinch in her Castleton Sun Readers? Say hello because that would be me.
Pick-Pocket Proof Clothing
It's always a challenge to figure out a way to keep an eye on your wallet and passport while you're looking at the sights all around you, especially when you're traveling off the beaten path. These travel pants and shirts from Clothing Arts are both stylish and comfy but, most importantly, they offer a level of protection not found in your everyday outfits. Check out all the hidden pockets and get rid of that old money belt once and for all.
Prong PWR Case
There's nothing worse than seeing red on your iPhone while you're on a tour or hiking – or lost – and having nowhere to charge it. This brilliant invention from Prong is not only a detachable Smartphone case but it's also an extra battery and charger all in one. That means you won't have to worry about running out of juice at a totally inconvenient time or having to carry separate cords and plugs. A must-have.
MetroSafe Anti-Theft Laptop Bag
Carrying a laptop on vacation is often necessary but also stressful because there are so many ways it can be stolen. This sturdy travel companion from Pac Safe alleviate that anxiety with innovative safety features like eXomesh slashguards, a Slashproof Carrysafe shoulder strap and Turn & lock strap hook, Smart zipper security, and an RFID-blocking pocket. It's like having someone guard your bag for you.
RHA MA450i Noise Isolating Earphones
Headphones are definitely a necessity these days, whether you want to watch an in-flight movie or just block out the crying baby in the seat next to you. I used to carry my big, bulky BOSE noise-canceling headphones on every trip but then I found these, which do a great job of keeping out the world and take up no room at all. Plus, the sound is excellent – way better than the Apple EarPods, which aren't much cheaper.
Halo Travel Pillow
I was always jealous of people who could sleep on planes. I would twist and turn, with my head bobbing left and right, and arrive at my destination absolutely exhausted and fighting jet lag for days. Then a friend introduced me to the Halo, which is completely different from any other travel pillow I've ever tried – because it actually works. It's got an innovative design and even comes with a built-in eye mask. It lets me drift off for at least a few hours, which is amazing, and means that woman you see lying by the pool in her Castleton Sun Readers is actually happily reading The Goldfinch rather than snoring away behind it.